5 Ways Torri's Legal Services Helps Your Law Firm Run More Efficiently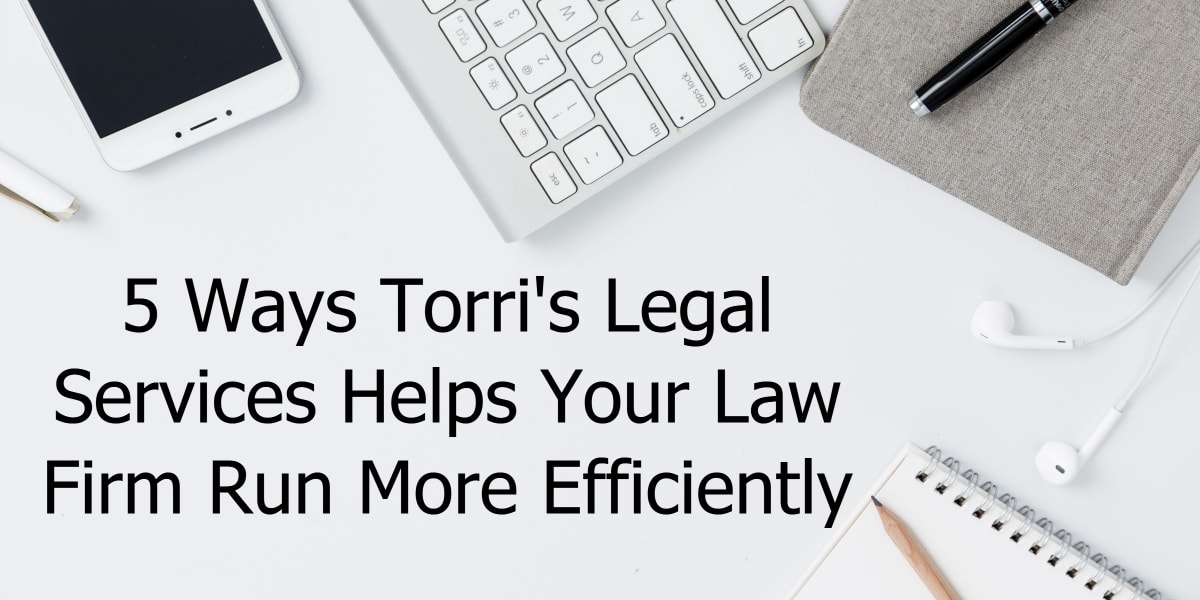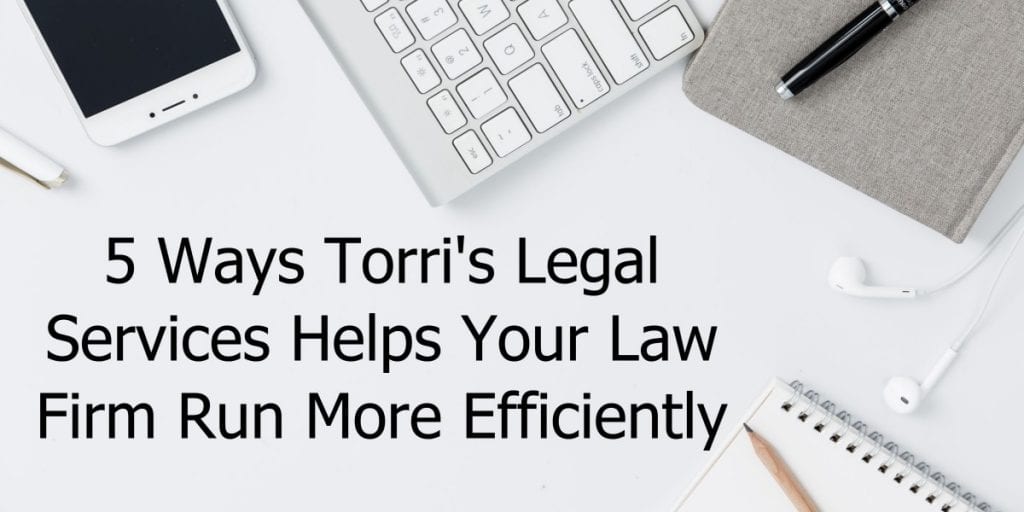 You've heard the phrase, "Time is money." This is especially true for a law firm, where every moment during business hours has the potential to be billable.
Though there are many important activities that make up the running of your law firm, not all of them are profitable given the amount of time you and your staff spend doing them. Why not look for ways to outsource some of those tasks that take a long time to a legal services firm, freeing you and your staff to do more profitable work?
Here are 5 ways Torri's Legal Services helps your law firm run more efficiently:
Process Service
Finding a process server in a new area of the country – or the world – can be difficult. You aren't sure which online listings are still valid, and some places aren't as transparent with their pricing as they should be. This leads to many lost hours searching for a reliable new process server for you and your staff, meaning you have less time to spend on work for other clients.
At Torri's Legal Services, we have process servers capable of finding witnesses and defendants nationwide and internationally. We work hard to make sure we can serve your documents no matter where they need to go. Once you hire Torri's Legal Services for your process service needs, you'll never have to look for another firm – We promise!
Document Retrieval
Even though many documents are readily available online, there still are those hard-to-find documents that could make or break your case. Tracking them down can take hours and dozens of phone calls or internet searches, and you may still come up empty-handed.
Our powerful databases can access records in hundreds of jurisdictions, making it much easier for us to find that elusive paperwork than if you go it alone. We have years of experience using the right search terms and relentlessly digging until we find just the information you need.
Skip Tracing
No matter how many addresses for a person you may have in your database, you're bound to run into difficulty finding a witness or defendant at some point. This is especially likely as a case ages.
Our dedicated team uses expensive databases that record thousands of status changes to find the most up-to-date address possible. You just give us as much demographic information as you know about the person and we take care of the rest.
Mobile Notary Services
While it may be easiest to have someone on staff who is a certified notary public, that isn't always a convenient option. And contracting with a notary only goes so far if that person has specific requirements, such as only available during business hours or requiring everyone to come to an out-of-the-way office.
With our mobile notary services, Torri's Legal Services can help you get documents notarized on your schedule at a place that is convenient for all parties involved. And this convenience isn't going to cost you an arm and a leg – We make sure our services are affordable as well as convenient.
Supreme Court Filing
Arguing a case before the Supreme Court is a major honor – and can be a major headache. Not only do you have to prepare an air-tight argument, you also have to submit all your briefs and motions in an unusual format on paper you've not needed to keep in stock.
Rather than waste your time complying with all the minute details of filing documents with SCOTUS, let our team free you up so you can spend time where your talents are needed. We have assisted other law firms with filing at the Supreme Court, and we make sure we're always on top of any changes to the filing requirements. You provide the argument and we provide the paper!
Exceptional Legal Services for Law Firms Nationwide
Since 1990, Torri's Legal Services has offered exceptional legal services – skip tracing, document retrieval, service of process, and more – to clients all across the United States. Let our team help you make your law firm more efficient and more profitable for years to come. Contact us today for a quote!

Tags: document retrieval, law firms, mobile notary, service of process, skip tracing, supreme court filing