6 Ways TLS Maintains Ethics & Professionalism in Our Process Serving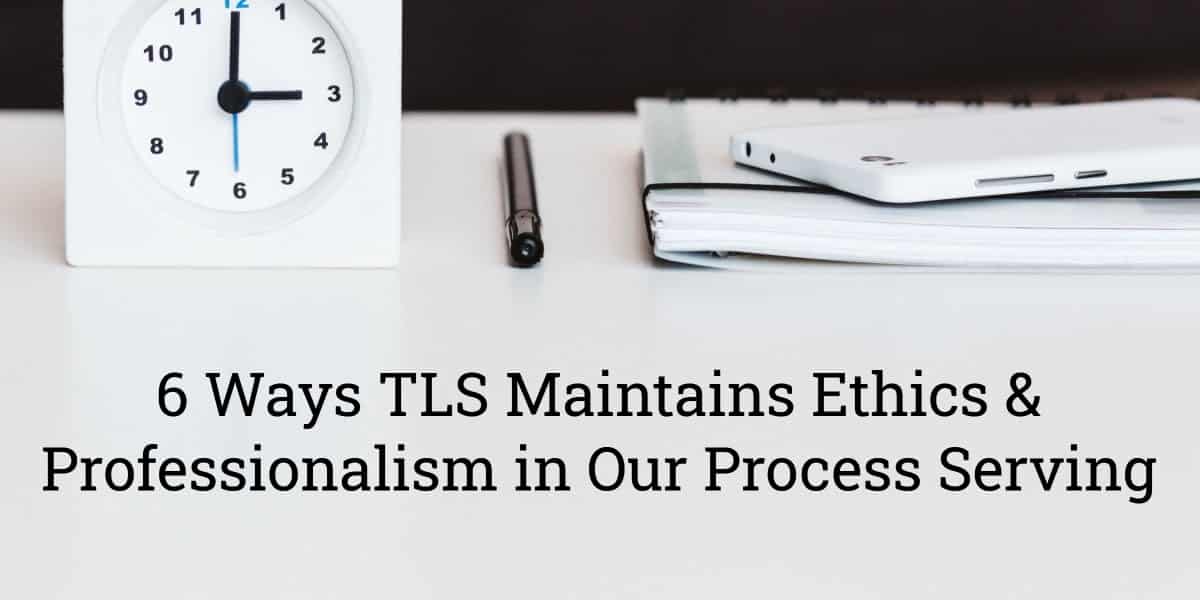 Serving legal papers correctly is an important job.
While you can hire most anyone to serve your papers in most states, choosing a professional process server comes with a variety of advantages you won't get with other service options. And, when you choose Torri's Legal Services for your process serving, you get a team dedicated to maintaining the highest standards of ethics in the profession.
Here are 6 ways TLS maintains ethics and professionalism in our process serving:
We Train Our Servers
Serving process correctly, like any other profession, is a skill that takes time to learn and refine.
To help our servers do this, we thoroughly train them in how to find addresses, how to approach a person, what to say, and how to fill out and file the appropriate paperwork. This training is continual throughout their employment, as we regularly make sure our servers know of new updates to process serving laws and industry best practices.
We want to make sure that every single client gets the same high level of service, regardless of who's doing their serving. The training we provide is part of this commitment.
We Maintain a Professional Appearance
Serving papers while wearing casual dress definitely is more comfortable, especially if we're driving around all day, but it certainly isn't the impression we want to leave with our clients.
Our process servers always maintain a professional appearance, including dressing and looking professional, politely interacting with everyone, and carefully diffusing tense situations. You pay us to be your professional process servers, and we work hard to ensure that we're doing just that.
We're Honest About Our Fees
You won't find any hidden fees or extra charges (without hearing from us first!) at Torri's Legal Services.
The price you're quoted, whether it's for rush service or regular service, is the price you'll pay.
In the event that we run into difficulties that require us to run a skip trace or make additional service attempts over and above our initially quoted number, we contact you first to make sure you agree to the additional charges. We hate surprise bills, too, and we don't make our customers pay them.
We Keep You Informed
Serving papers can be full of surprises, including abandoned houses, name changes, and hostile subjects. These unusual circumstances can require us to change our tactics in order to get your papers served promptly.
We make sure to keep you informed on the progress of your service, quickly notifying you if there are any problems that we need to remedy.
This allows you to know where your service is at at all times, so you can trust that your case is on the right track.
We Follow Through
If you hire Torri's Legal Services to serve your papers, we make sure to get the job done.
Even if we run into a difficult situation, such as a slippery defendant or a person we can't quite track down, we work hard to resolve the problem and get the paperwork served promptly and correctly.
We Stay in the Know
Laws and regulations are always changing, and these changes can greatly impact our work.
If a state passes a law that service of process cannot be attempted on a Sunday, for example, and we don't ensure that our servers know this information, any service that is made on a Sunday will be deemed void. This has very real consequences for your legal cases as well as our business, and we take this duty seriously.
That's why we make sure we stay on top of any changes to local and state laws, as well as industry best practices. Every detail matters, and it's important that our servers are doing their jobs correctly and serving you the best they can.
Professional Nationwide Process Serving
Since 1990, Torri's Legal Service has provided professional, prompt service of process, skip tracing, document retrieval, and other legal services to law firms across the country. Our team of professional process servers gets your papers served correctly every time, so you don't have to worry. Call today for a quote!