Our Standard, Custom, Federal and State Required Affidavits
Part of our commitment to excellence at Torri's Legal Services is displayed in our affidavits. In an effort to serve as an extension and arm of the attorneys and government agencies we work with, our goal is to provide professional, quality affidavits. Our standard and custom affidavits have been approved by the courts in our area, and we use the required federal and state affidavits whenever necessary. This is just one of the things that helps make Torri's Legal Services a top process serving firm in the Washington, D.C. area.
Affidavits for Every Service and Need
In order to ensure that we are using the best affidavit for each serve, we use a few different affidavits, each tailored to fit the needs and legal requirements of the serve.
Federal Affidavits
We always use the required federal affidavits, including:
Subpoena to Appear and Testify at a Hearing or Trial in a Civil Action (AO 88)
Subpoena to Testify at a Deposition in a Civil Action (AO 88A)
Subpoena to Produce Documents, Information, or Objects or to Permit Inspection of Premises in a Civil Action (AO88B)
Summons in Civil Action (AO 440)
Summons on a Third-Party Complaint (AO 441)
Summons in a Civil Case – FOIA
Summons in a Civil Case-28 USC 1608
Summons in a Civil Case – 16 USC 1855(3)(A)
Washington, D.C. Landlord/Tenant Required Affidavits
Washington, D.C. has specific affidavits that process servers are required to use for all Landlord/Tenant disputes in Washington, D.C. We always use affidavits in accordance with this rule.
Custom Washington, D.C. Tax Foreclosure Affidavits
We use custom designed affidavits for all Washington, D.C. tax foreclosure serves. These have been designed and tailored to both the needs of the court and the requirements for this particular type of litigation. Once we have received and logged the papers in our system, we generate an affidavit for the recipient to sign when they are served, acknowledging receipt of service.
Our Standard Affidavit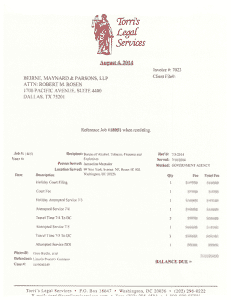 There are no state-specific guidelines for how affidavits should look in our local area. Our standard affidavits include important information and details about the serve:
Plaintiff and Defendant
Case Number
Court Jurisdiction
Name of Person Served
Person's Title (if service is on a business or government agency)
Address
Date and Time of Service
All Documents Listed as They are Titled
This format and information has been tailored to suit the needs of the local courts that have approved our standard affidavits.
Our Custom Affidavit
Because there are no state-specific guidelines, we use our own affidavits tailored to the preferences of our courts. In addition to our standard affidavit, we use custom affidavits that are court approved in the area. This allows us to include all of the necessary information about the serve, which can be made available for our clients, while also knowing that the affidavit will be accepted by the court.
Affidavits of Non-Serve
In the scenario that attempts have been made and service cannot be completed due to unforeseen or unavoidable circumstances, we provide an Affidavit of Non-Serve. This affidavit includes information on all of the attempts, including the date, time, and a personal account of what happened, as well as any notes or information that the server has observed or obtained.
It is our highest priority at Torri's Legal Services to offer professional service in accordance with the rules and requirements in the areas that we serve. Our focus on affidavits is just one of the many ways we work to keep our clients happy and stay up to date with what is not only required, but also preferred by the courts.